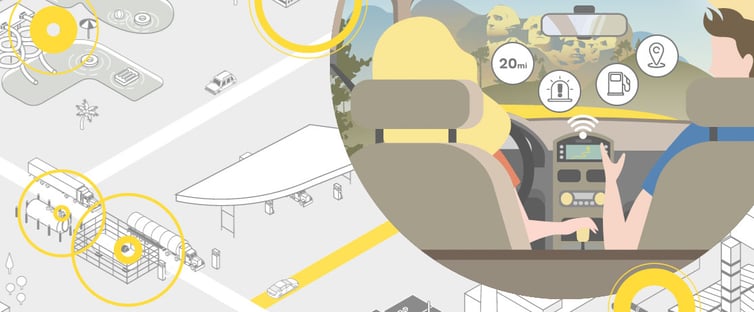 When I think back to my own experience with reluctance to embrace a modern technology, one example stands out - the Global Positioning System, or GPS. As a youngster, my family would travel to different national parks and other popular sites around the United States. In planning the trip, my father and uncle would study maps and often disagree about which route was best. It was one such trip that brought an ongoing brotherly competition to a head - a battle that put old ways versus new to the absolute test.
As GPS technology became more popular and accessible to civilians, it eventually entered the planning of our family trips. My uncle had purchased a GPS device and wanted to be the lead navigator for the three-vehicle caravan of mini-vans. Being a traditional, old school guy, my father decided to show up his brother by declaring that our mini-van would be using a tried-and-true paper map.
Predictably, our vehicle encountered the usual obstacles that GPS is designed to prevent: closed roads; construction delays; and bumper to bumper traffic. Our vehicle arrived a half day later, much to the joy of my technology-loving uncle. My father's mistake of not embracing new GPS technology made for years of harmless, entertaining stories at family gatherings as we recalled him standing, stoically, in heavy rain, photographing Mt Rushmore.
New technology: those that adopt …and those that do not:
In business, dismissing the benefits of emerging technologies over "tried and true" methods can buy much more than a ribbing. Today, the use of technology can divide those that survive and thrive, and those that do not. Of course, adapting operations as you evolve your business, has always made good sense. Today's advanced technology also helps make life easier for you and your staff.
Undoubtedly, new technology has changed the way people live today, making life much easier and less complicated. My grandparents could not have even conceived of GPS. Now, it is difficult to imagine life without it, so too with remote tank monitoring solutions. Yes, remote tank monitoring has become a widely used advantage for the fuel and propane distribution business. Yet, we continue to struggle with the limitations imposed on us by current technology – limited geographic coverage, communications support options, and the restriction of single-tank monitoring.
Making tank monitoring universal: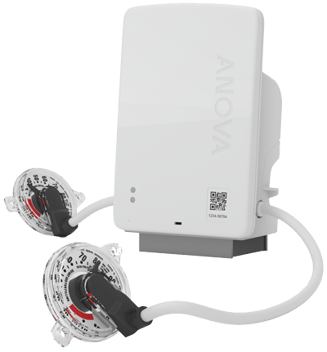 At Anova, we have taken a giant leap forward to evolve tank monitoring, and the distribution businesses of our clients, by introducing the Anova Universal Tank Monitor™. This innovative monitor meets the demand for a tank monitor that works everywhere, with everything, and is easier and smarter. The Anova UTM™ enables distributors to focus on serving their customers, growing the business, and making life easier for their teams. It is time to stop throwing away time and money, and invest in technology that will truly last, communicate and serve you for the next 15 years.
Intelligent and easy – the way it should be:
Stop worrying about what cellular carrier is dominant in your area, the Anova UTM™ automatically searches for, and switches to the strongest available network, including LTE CAT-M1. Why be forced to decide between "A" and "B" up front? You have entered the Tank Monitoring Candy Store, and you can have it all. The internal intelligence built into the Anova UTM removes the need for any special ordering and preliminary research by installers and purchase managers.
Speaking of making life easier, the Anova UTM can monitor more than one tank or asset at a time. With its multiple sensor inputs, you can be simultaneously monitoring multiple tanks. Imagine you need to deliver more than one inventory, or a backup tank for that matter. One monitor, multiple nearby tanks, propane tank and or diesel, with the intrinsically safe Anova UTM you'll find a host of new ways to speed up your distribution business. The bonus - bulk tanks with large dials are also easily monitored with Anova UTM.
Getting more from technology: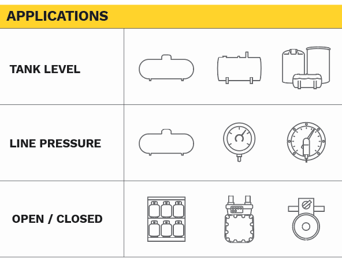 To be successful in fuel distribution today, you need cost effective versatility and the ability to do more. That is why we built the Anova UTM. To do more - even monitoring beyond tanks. In addition to monitoring tank levels, the Anova UTM can also track cylinder change-over valves, notifying suppliers when the switch has been made. Or track usage and detect any irregularities by monitoring pipeline pressure and gas meters in community-shared systems.
Life is also easier when installing the Anova UTM. The device can be mounted multiple ways, including a magnetic mount. These multiple mounting options make installation on underground tanks just as simple as above ground tanks.
Once mounted, the Anova UTM powers up and syncs easily to the strongest network using our simple mobile app. You can ensure that the monitor is installed and reporting properly within a minute.
Start monitoring, sooner: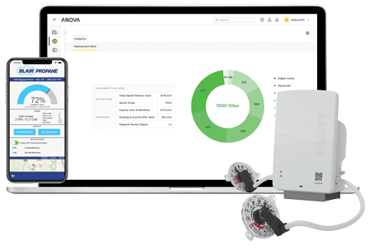 Another ground-breaking aspect of the Anova UTM is its affordability. Competitively priced for distributors of all sizes, you also have the option to purchase devices or to utilize them under our Hardware-as-a-Service (HaaS). A first in our industry, Anova introduced the HaaS in July of 2019. Anova UTM monitors are bundled together along with software, communications and hosting, API integrations, and world-class customer support into one easy monthly subscription. The HaaS bundle pays for itself by allowing distributors to monitor more assets, save on distribution costs, and drive rapid operational returns without the upfront cost of purchasing hardware.
Bringing it all together:
Much like GPS, tank monitoring hardware is only as good as the systems it works with. The world's most advanced satellite is irrelevant if the system on the ground is unable to manage or process the data it generates. The Anova UTM is undoubtedly supported by the industry's most advanced data infrastructure and packaged in a simple, easy-to-use user interface.
Managing, understanding, and being able to take impactful actions on what the data is telling you is where Anova empowers distributors to have an advantage. The Anova UTM combined with Anova's Transform takes distributor's delivery data to the next level to optimize your business operations. Transform has enabled our customers achieve more than a 55% average fill rate, 30% more than the industry average.
Life lessons, learned:
Just like the advancements in GPS technology, the innovation of the Anova UTM will take us to new places beyond the tank, in unexpected but delightful ways, and will certainly drive a new competitive edge for those that embrace it. Had my uncle and father been competing fuel distributors, here today, I could say with certainty that my uncle would not be the one driving all the way out to that already full tank for no good reason, stoically standing in the heavy rain.