Anova sets a new standard in Low-Power, Long-Range, Tank Monitoring Affordability, Reliability, and Versatility
New Providence, NJ, USA — June 29, 2022 —Anova, the trusted innovator and leader in remote tank monitoring, today announced the Anova Universal Tank Monitor LPWAN (Anova UTM LPWAN) for energy marketers. This new addition to the innovative UTM family meets the need for affordable low-power tank monitoring over long-range communications, including Sigfox and LoRa. Offering optional GPS positioning and delivering accurate, unlimited tank-level readings, this intrinsically safe, versatile device is set to help marketers accelerate the digitalization of their businesses. UGI International's Olivier Magaud, Operations Director and Telemetry Project Leader, describes this game-changing innovation: "We are proud to see our input to Anova reflected in the new Anova UTM-LPWAN tank monitor. This affordable and versatile device will truly advance the digitalization of our industry."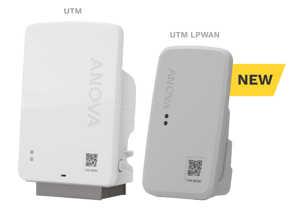 Anova CEO, Chet Reshamwala, describes the Anova approach to innovation and how this latest solution empowers the industry: "We focus on providing customers more insight into their operation to find new and effective ways to increase efficiency and profits." Adding, "The Anova UTM LPWAN does just that – an affordable solution that fuels large-scale digitalization.
/

Versatility

Monitors a broad array of digital inputs across multiple applications.
/

Cost-Effectivity

Leverages low-power, long-range, low-cost communication protocols for easy installation and affordable use, anywhere.
/

Reliability
15-year battery, optional GPS, alerts and reports, replaceable-cable design, and multiple mounting accessories.
About Anova
Anova is connecting the industrial world for better by digitizing the supply chains of the manufacturers and distributors of LPG/Propane, industrial gases, chemicals, fuels, lubricants, and other products. Through innovation in remote telemetry analytics and technology, including tank levels, pressures and temperatures, and predictive maintenance of related industrial equipment, Anova has enabled new levels of operational insight, efficiency, and consumer experience. Anova cloud-native solutions are used in over 80 countries around the world, providing insight on close to a million industrial assets, and support in 12 languages. The company's 2,000+ clients run the gamut from small, regional businesses to the world's largest LPG/Propane, industrial gases, and chemicals manufacturers and distributors. Anova is the only globally deployed company in the remote telemetry space, reflecting its long-earned trust and reliability, the breadth of asset type monitoring solutions, and its universal communication network and satellite communications support. For more information, visit  https://www.anova.com

Media Contact:
Bridget Piraino
Anova
O: +1 908.373.5678
bridget.piraino@anova.com