Anova is announcing the introduction of a tank monitoring Hardware-as-a-Service option for its LPG/Propane, Fuels, Lubricants, and Chemicals solutions. This new service consists of a bundle that enables distributors and retailers to utilize Anova hardware and software solutions and upgrade without upfront capital investment. Each of these bundles is designed to help our customers predict and manage technology expenses while gaining access to the latest innovations from Anova, including 4G LTE connectivity and a streamlined, iOS and Android user experience.
Introducing Anova Hardware as a Service: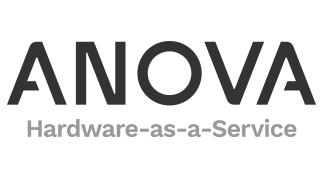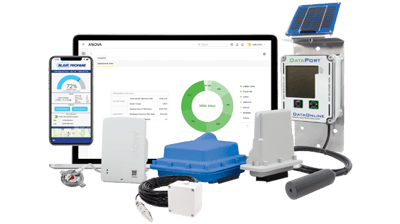 EASY. RELIABLE. WORTH IT.
The best return on investment
Anova provides the most affordable tank monitoring solutions in LPG, fuels, lubricants, chemicals and oils by providing insight before costs are incurred. Few companies have the resources to monitor every tank they service. Typically, when you start out with remote tank monitoring or you add to your existing program, you buy only the number of monitors you can afford at that time.
You try to strategically place those monitors where they will have the greatest impact: high-profile customers, high-volume locations, tanks with seasonal consumption like those at vacation homes.
The best remote monitoring partners will tell you where to place those monitors for the largest impact on efficiency and profitability. However, high upfront cost can mean smaller, slower remote tank monitoring deployments and a longer time to deliver operational benefits. Finding the balance between deploying sufficient monitors to make a measurable difference and the upfront cost of acquiring them has become a stumbling block for many companies.
Staying ahead with telecommunications
The challenge is even greater when you factor in communications technologies. Will the monitors I buy today become defunct when 4G LTE goes away? Will they work with new protocols that emerge?
Solve the too-little, too-late monitoring problem
Too often, companies make the mistake of dipping just a toe in the remote tank monitoring waters, thinking that they will fully jump in later. Unfortunately, the lack of scale and commitment positions them well behind competitors. Or worse, dooms future expansion due to lackluster ROI or internal buy-in.
The Trusted Partner in Tank Monitoring
Anova is the trusted name in tank monitoring. Known for reliability, ease of use, and expert customer service and support, Anova monitoring technology is used on propane/LPG, fuel, oil, chemical, lubricant and petroleum tanks around the world. The benefits of using tank monitors today are clear: prevent stockouts and alert of key changes in levels, track mobile assets, reduce supply chain costs, increase distribution efficiency, and provide a better experience for customers.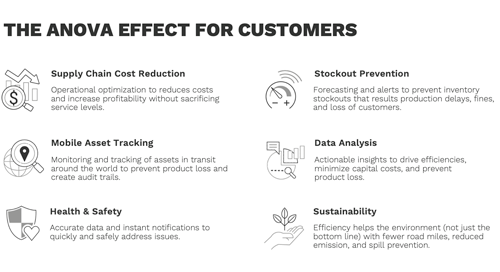 Anova HaaS: monitor more, with no upfront capital costs
Anova has new options to make the buying process easy and provides access to latest innovations. We offer a way for companies to embrace smart technology, and drive efficiency and profitability, with no upfront capital expense. A first in the space, Anova's Hardware-as-a-Service enables you to place Anova-owned tank monitors across your customer base at a scale that drives real ROI and competitive advantage.
One, affordable monthly subscription
Anova owns the monitors and will send you new ones for relevant communications compatibility. You get the industry's most trusted monitors - plus the most actionable tank intelligence software - for a low, predictable monthly subscription and it is all supported by warranty and 24/7 tech support.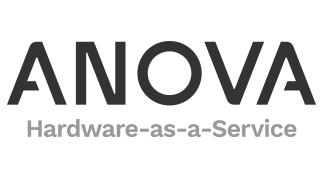 Hardware-as-a-Service makes sense in many industries
The HaaS model is not new to other industries. Recently, video conferencing company Zoom introduced a new Hardware-as-a-Service offering, making it extremely cost-effective for businesses to create full-function audio/video systems without the significant capital expense typically involved.
Anova Hardware-as-a-Service: Easy, Reliable, and Worth it
Consider this compelling new approach for your business. Included in the monthly monitoring service are tank monitors and sensors, data transmission, and insightful software that is accessible via web browser, mobile or API. The equipment and batteries are warrantied for as long as you use the service, and Anova will upgrade any units affected by network sunsets. To help you get the most out of our solutions, Anova also provides deployment guidance and 24/7 technical support free of charge.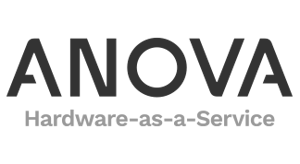 Easy.
Reliable.
Worth it.
Take bold steps, faster
The HaaS model wraps advanced technology, operational intelligence, and a long-term equipment warranty together into a predictable monthly payment. The ability to take bold steps faster has fueled rapid adoption in other industries and will undoubtedly do the same for our industry.
For more information on Anova HaaS and to contact Anova:
Visit pages.anova.com/hardware-as-a-service